Editor's Note:
The NBA Tattoo Manifesto
has moved to
http://nbatattoomanifesto.blogspot.com/
. Those of you who are every day readers of
The Daily Anything
will still be able to find new
NBA Tattoo Manifesto
posts here as well.
------------------------------------------------------------------------
Name: DeShawn Stevenson
Team: Dallas Mavericks
Position: Shooting Guard
College: N/A
Height: 6'5"
Weight: 218 lbs.
Although he never attended college, DeShawn Stevenson once committed to play college ball at Kansas, only to change his mind and declare for the NBA draft. Actually, "change his mind" isn't really an accurate description of the events. When he was a junior in high school, DeShawn took the SAT and scored a 450. The NCAA has a minimum of 800 for athletic eligibility so DeShawn registered to re-take the exam. This time, DeShawn's score imroved by 700 points.
The NCAA had its doubts.
DeShawn was rescheduled to take the exam, scoring a 650 in his 2nd real attempt. He decided to bypass Kansas and declare for the NBA draft, and was selected 23rd by the Utah Jazz in 2000. In his time in the league, Stevenson has played for 4 teams: Utah, Orlando, Washington, and now Dallas. He has averaged a meager 7.2 points a game in his career, but remains a high-minute player because of his defensive prowess. Despite his limited offensive ability, DeShawn does lead the NBA in one statistic:
Face tattoos (unofficial).
Exhibits #1 & #2: Pirates' 'P' & Crack
Location: Face
Look at that picture and tell me what's wrong.
No, no, no. I don't mean the fact that reporters are holding microphones up to DeShawn Stevenson's mouth as if they are actually interested in what he has to say.
Look at the 'P' on the side of the man's face. See it yet? Yeah, its backwards. Must be that he wanted it to look cool in the mirror. As it turns out, the backwards P is a well-known symbol for the Piru Bloods.
On a side note, I'd officially like to nominate David Stern for the "most patient man in the history of professional sports" award for tolerating this kind of crap for the past 27 years.

If you look slightly above the P and to the left, you will see DeShawn's other face tattoo, a crack that runs just underneath his hairline. DeShawn explains that the tattoo is a metaphor: "I don't crack. I feel like people always try to break me, but I don't crack. So I put that there."

So he tattpoed a crack on his body to symbolize the fact that he doesn't crack. I believe this quote explains the 450 DeShawn got on his S.A.T.'s.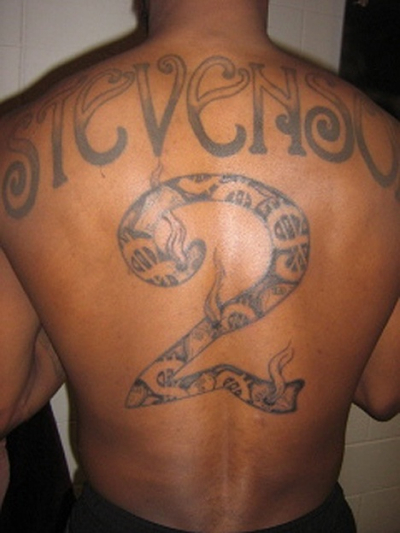 Exhibit #3:
Name & Number 'Jersey' Tattoo
Location: Back
This tattoo originally began with DeShawn getting his name tattooed across his back. That was supposed to be the end of it, but DeShawn liked the tattoo so much that he decided to turn it into a jersey by adding the no. 2 just below it. As you could imagine, this had the potential to end poorly, and in Stevenson's case it did.
He is currently wearing no. 92 for the Dallas Mavericks. Might as well have been a "<3 Cindy" tattoo.
Exhibit #4:
Abe Lincoln - 505
Location: Throat
On his throat, DeShawn has a tattoo of Abraham Lincoln flanked by the number 5 on each side. I honestly have no idea what this tattoo could possibly mean, and a half hour of research on the topic yielded no more information. My best guess is that the tattoo has some correlation to Lincoln's presence on the $5 bill, but why would Deshawn feel it necessary to tattoo that on his neck? Then I read the quote about the tattoo of a crack on his head and realized that reason went bye-bye for DeShawn a long time ago.
The Abe Lincoln tattoo has become a bit of a sensation since DeShawn's move to Dallas, prompting a Mavs fan to create an "Abe Lincoln Speaks from DeShawn Stevenson's Neck" video, which includes Abe trash-talking to the San Antonio Spurs.

As a Suns fan, I loved it.